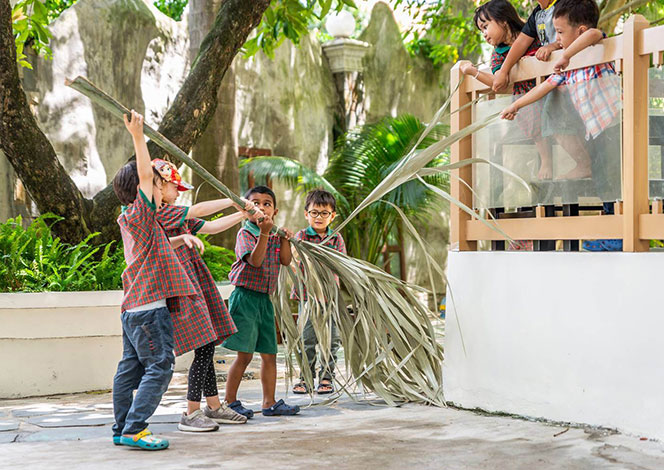 01
Reggio Inspired Curriculum
The Inquire-Think-Learn curriculum focuses on inquiry-based learning where all children are viewed as competent thinkers and communicators with an innate sense of curiosity and endless imagination.
02
Learning Environment
A thoughtfully considered and aesthetically beautiful learning environment, designed to stimulate the learning and development of young children 18 months to 6 years old.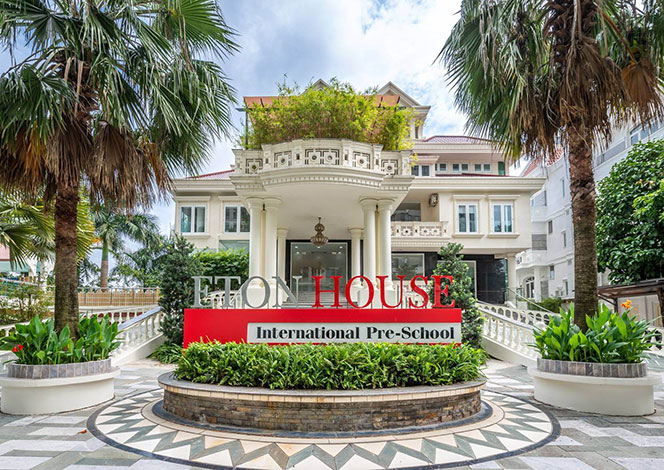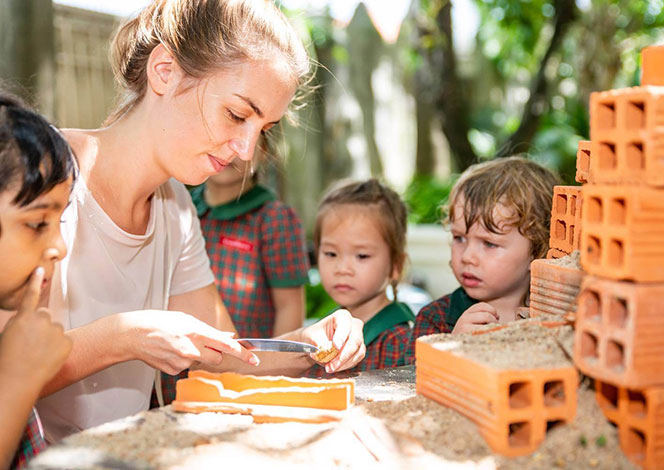 03
Our Team
EtonHouse E-Maison International Pre-School, Reggio Inspired believes that the quality of its program is a reflection of the quality of its teachers. All educators at EtonHouse E-Maison International Pre-School, Reggio Inspired have graduated with a Bachelor or Masters degree in Early Childhood Education and have a minimum of 3 years teaching in a Reggio Inspired School.
Latest news
Follow us here for latest news, updates and events of what is happening at EtonHouse E-Maison International Pre-School, Reggio Inspired.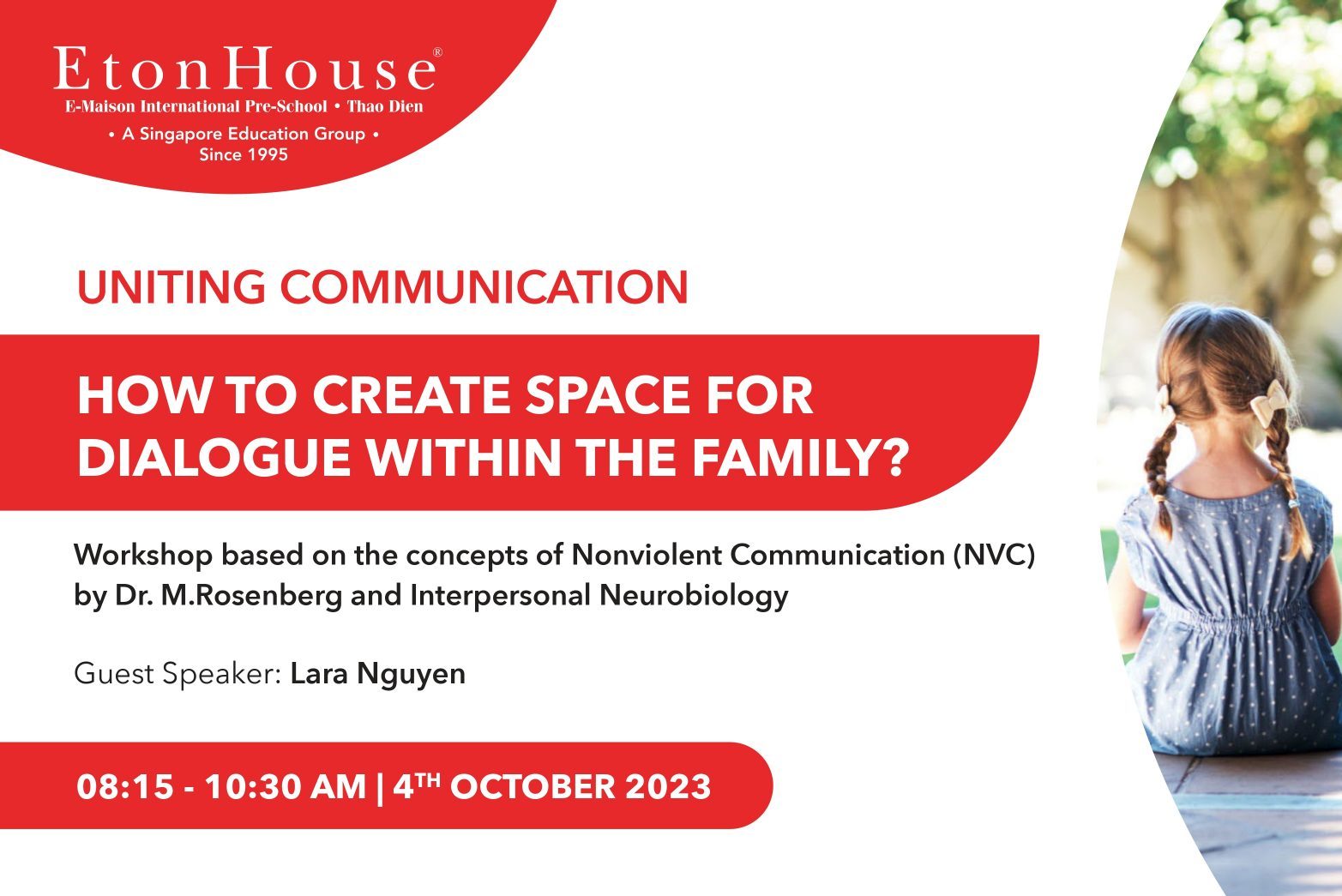 Seminar UNITING COMMUNICATION: "HOW TO CREATE SPACE FOR DIALOGUE WITHIN THE FAMILY?"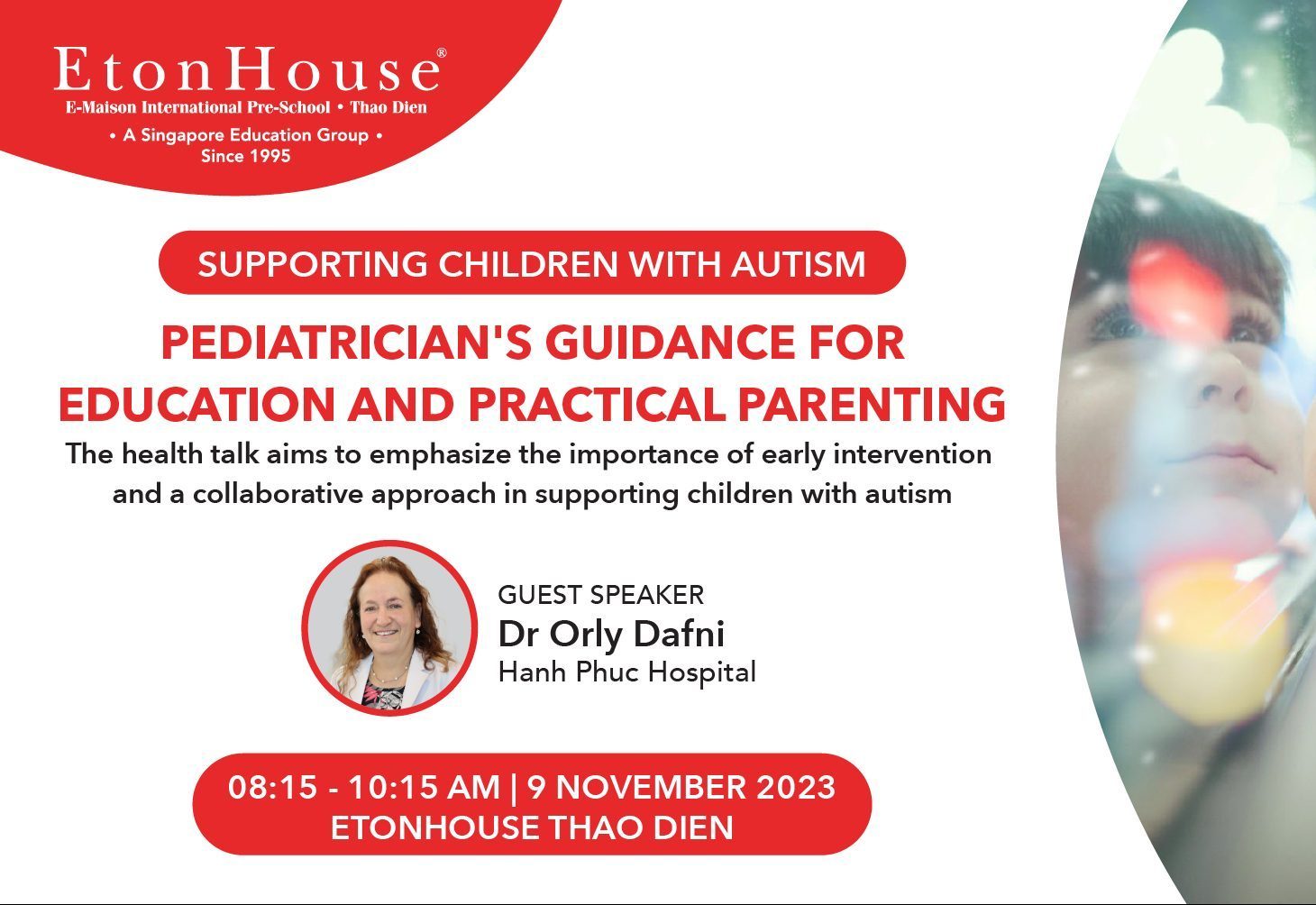 Seminar SUPPORTING CHILDREN WITH AUTISM: PEDIATRICIAN'S GUIDANCE FOR EDUCATION AND PRACTICAL PARENTING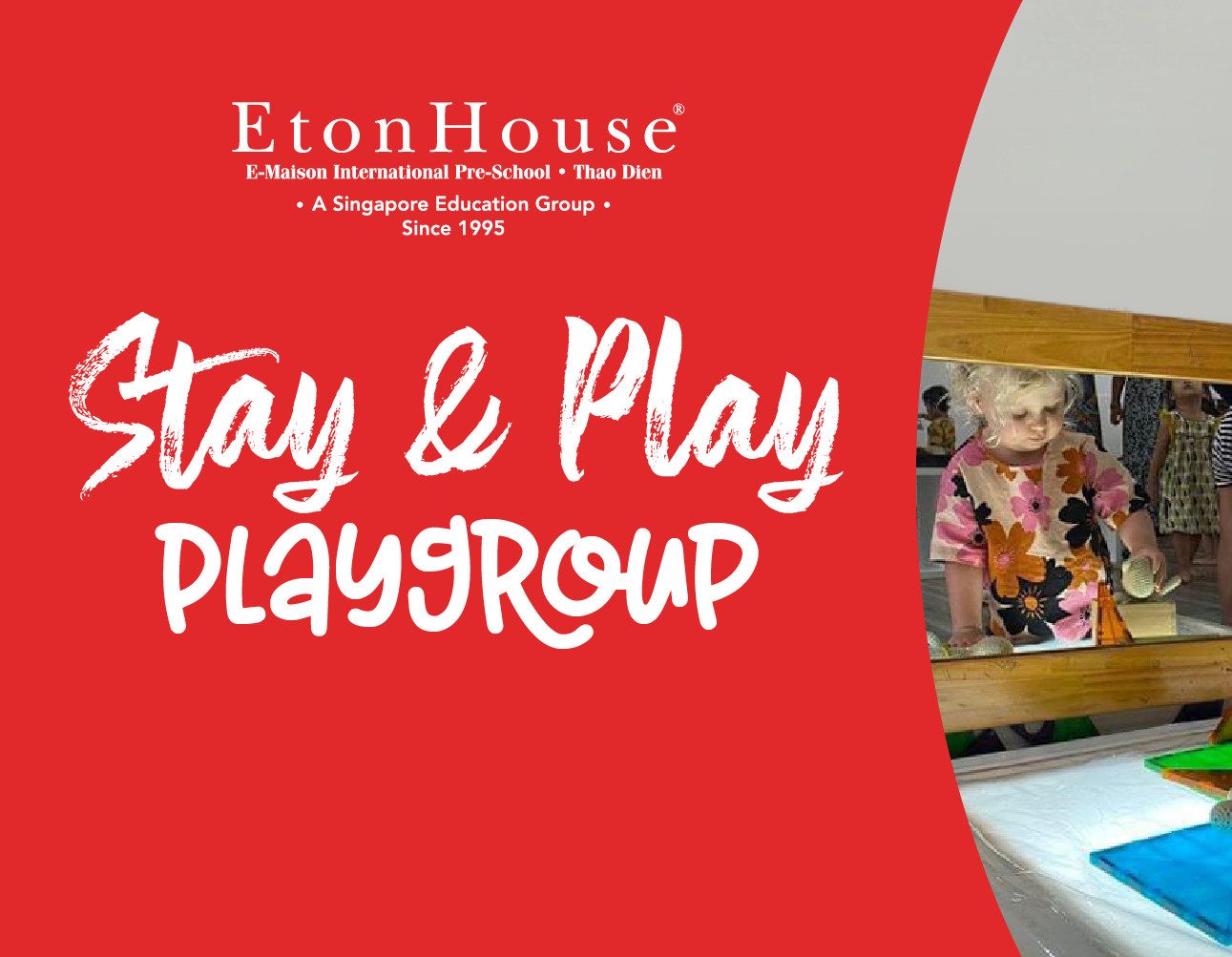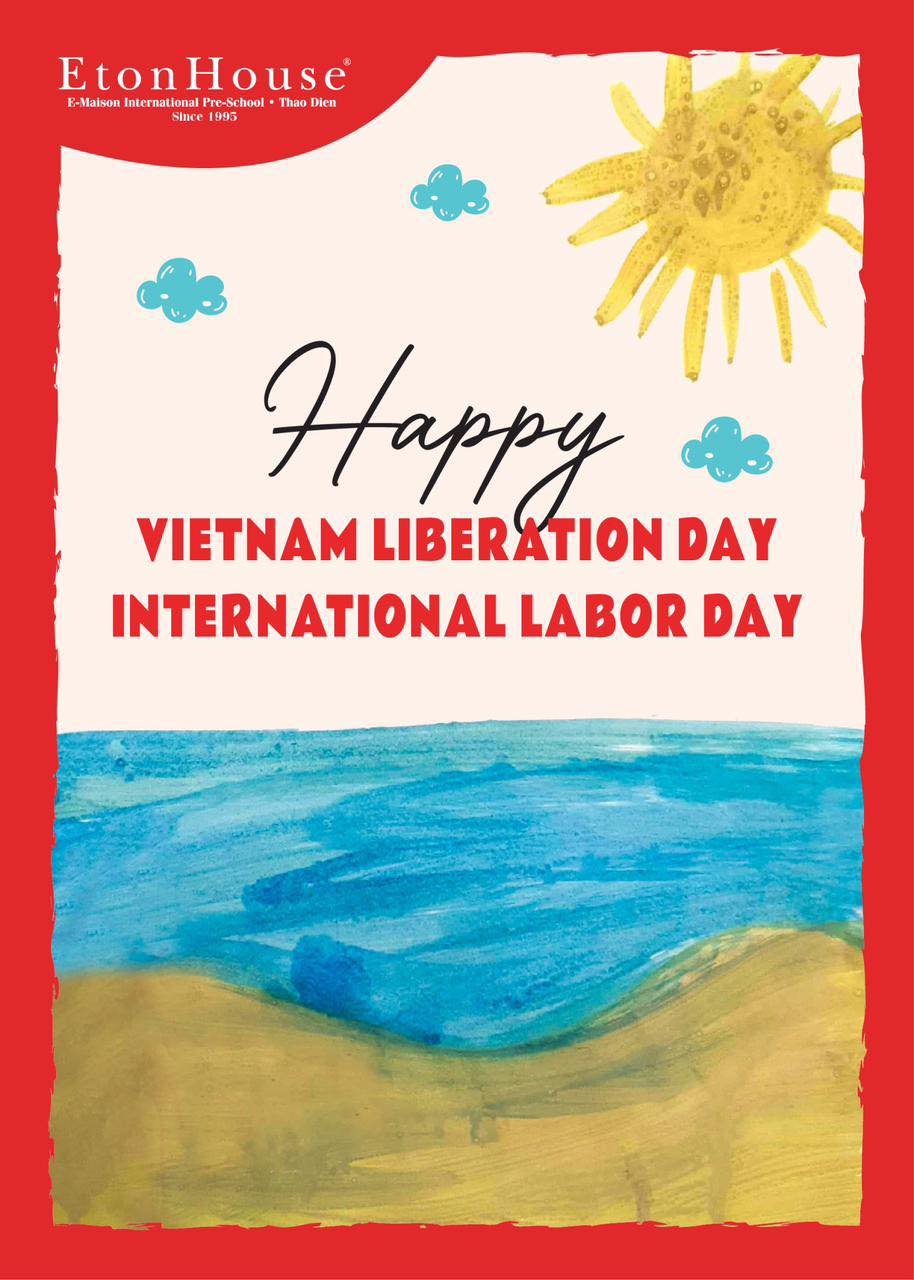 30/4 – 1/5 Holiday Announcement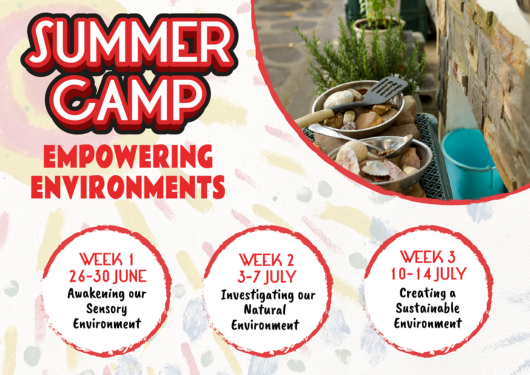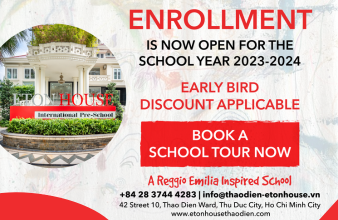 School Year 2023-2024 Enrollment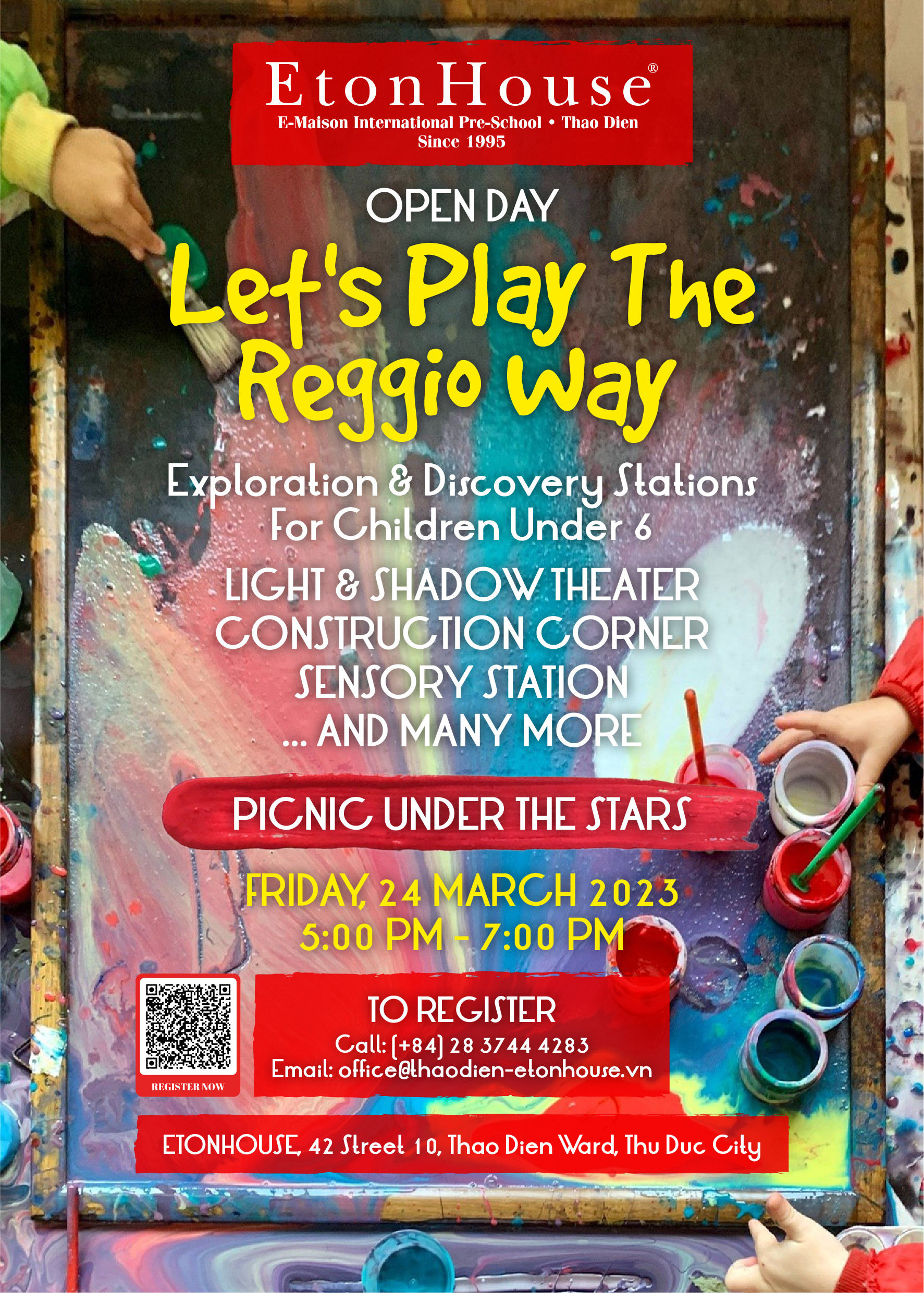 EtonHouse Open Day – 24 March 2023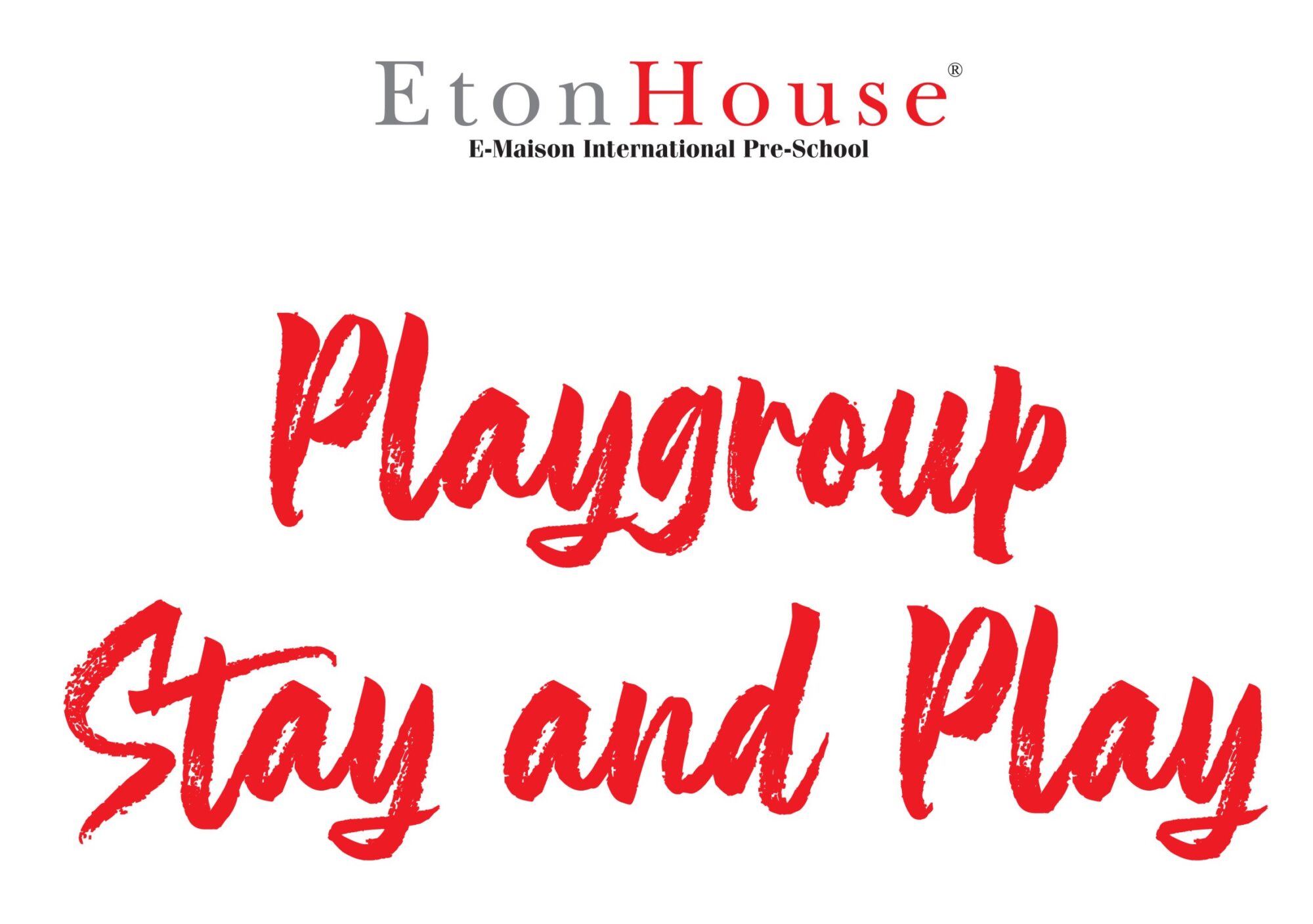 Registration of EtonHouse Playgroup is now open!!
Enrollment is now open for the school year 2023-2024
What people say
Ms. Kate
Mother of 3 years old daughter
Our toddler daughter absolutely loves attending her Nursery class at Eton and has formed strong connections with her teacher, the classroom TA's and her classmates. I have watched my child's confidence and communication soar during her time at Eton. Thanks to Eton our child's future schooling is secure, here she is being well supported in her important early learning years and allowed the freedom to learn at her own pace. In this beautiful setting the Eton teachers encourage natural childhood investigation, creativity, physical activity, social interaction and early literacy to name a few. We feel incredibly lucky and grateful to be apart of the EtonHouse Community here in Ho Chi Minh City.
Ms. Novi and Mr. Albrecht
Parents of 3 years old
We are very happy that we choose EtonHouse for my daughter's Pre-school. We are very happy and thankful with the great support of the principal, the teachers and managers of EtonHouse (they are amazing). Everyone is approachable and greets with smile, the teacher are happy to provide individual feedback about the activities and learnings. Besides, lovely photos & videos on the Storypark provide a nice insight of what was happening in the classroom throughout the day. The community of the parents are very nice. EtonHouse is a great Pre-school that we highly recommend, it is "hand-on" but at the same time warm and welcoming educational environment!
Ms. Gayoung Lee
Mother of 2 years old
I first decided to send my daughter to Eton house because I liked the way the school encourages children to learn using their own curiosity and motivation. Apparently my daughter love the school. I know this because whenever I pick her up from school she always says "the school was so much fun!"(not to mention that my daughter always comes home cover with paint and sand from head to toe… she does have fun at school!) I love how the Eton house teaches my child to be independent and take care of herself. I love seeing her growing as a advocate of herself while she respecting the others. I think as a parent, it is my job to raise my child as a 'likable, independent' person who can 'speak' for her/himself. Eton house is definitely on the same track with me and I trust the education they provide.
Ms. Iris and Mr. Max Rummert
Parent of 3 years old and 5 years old
When we moved to a new continent 7 months ago, we expected a rather difficult start with our 3 little kids. Eton House with its amazing teachers was a main reason why our kids felt at home within a very short amount of time and why we didn't have a bumpy transition at all. As every child is seen as an individual, we feel that the different needs and wishes of our daugthers are addressed perfectly. The inquiry based approach encourages them to be curious and to confidently explore and enjoy their new living environment to the fullest.
Mr. Simon Stansfield
Father of 4 years old
Thank you Ms Karen and all of your wonderful team for creating such a wonderful learning environment for all children. Sam has flourished over the past year and half through a wonderful program of learning by doing and experiencing such a diverse array of stimulating activities. I have also appreciated the involvement and engagement that you give to us as parents. I couldn't wish for a better start to Sam's schooling. Sincerely Simon.
Ms. Huart Marilyn
Mother of 3 years old
It is almost the end of the year and we want to thank very much Ms Karen, School Director, for her kindness and professionalism and all the team at EtonHouse Thao Dien. Our 2 years old daughter had so much fun in this school over the year. She did not want to come back home only after few days she entered school for the very first time. She improved so much in all areas especially social abilities. She is now confident more than ever. Special and big thank to a very kind, comprehensive and professional team with Ms Lyz, Ms Jenny and Ms Chen. Our daughter loves them so much, we feel like they are part of our family. We end the school year with a bit of nostalgia of so good moments but as parents we feel so lucky that in 2 months she definitely be back at Eton House Thao Dien for a new journey full of discoveries. We are so grateful that you took so good care of the kids.
Ms. Lou Tran
Mother of 2 years old
My son loves kindergarten. I'm so glad I picked the right school for him!
Ms. Simone Robinson
Mother of 2 years old
After going to several schools we were told about Etonhouse Thao Dien. Actually we were told of Ms. Karen, how remarkable she was and that our son should definitely go to her school. We made an appointment and met with Ms. Karen, Ms. Amanda and the lovely TAs. Within 5 minutes we knew this was the school for Everett... We also felt like we had just met our family away from home! Our son is so thrilled to be at school now he never wants to come home. The dedication and thoughtful approach to his ideas, creativity and needs are nurtured daily! His teachers Ms. Meka and Ms. Lyn, give him the understanding and respect he needs to thrive. I am beyond grateful for this new school and love to see Everett's strengths and social development grow.
Ms. Jessica Denham
Mother of 4 years old
My daughter Tresne started Eton House Masteri when she was 22months old; she uses to kick and scream with tears every morning being dropped off and today 3.5years old being Miss Independent walks herself to class with a huge smile for one and all. Her development and education level is phenomenal and I cannot thank Ms Karen the principal of the school and her amazing Teachers for their work and effort they put into kids there. We will very much miss Eton House and our friends a definite must-go-to kindergarten.
Mr. James Cooper
Father of 4 years old
I attended Eton House on Sunday as part of the Holistic Fair and was blown away by the facilities. I was a speaker at the event, and a first-time speaker at that. What came with that was a little nervous energy, but as soon as I arrived at the school, everything just went away. The classrooms and the ambience promote a calm, relaxed mind and I can only imagine what a wonderful learning environment this promotes for the children who attend. The staff were superb, helping at the event and I was delighted to actually see a few of the members of staff at my talk. Thanks for being the host for what was an outstanding day. Smiling in Saigon. Oh and a quick word on Karen the principal. What a wonderfully energetic and charming lady. I look forward to seeing you again.
Ms. Jia Chen
Mother of 4 years old and 2 years old
We all love EtonHouse Thao Dien. Kids can't have enough fun in school. Our 2 kids are going there now, I think we will send the No.3 as well.
Ms. Angelika Kaier
Mother of 2 years old
If you are looking for a preschool where your children will feel safe and the environment is warm and nurturing I would also suggest considering EtonHouse Thao Dien. The campus is beautiful and inviting. It's like an oasis in the middle of this busy city. The classrooms are bright and spacious and the child-teacher ratio is very low. The school is strongly influenced by the Reggio Emilia approach which means that the educational approach is child-led and play-based. The teachers and principal are amazing and I couldn't be happier to be part of the EtonHouse family.
Ms. Elisabeth S. Manns
Mother of 6 years old
We are giving 5 stars to this school. Great Principal, Great Teachers! They are The Best! We have looked and done some trials in some of the international schools in District 2 and this school is the Best by Far! Our son has some difficulties to adjust new environment when we moved here. Very low social skills, very hyper. The Principal and The Teachers do not give up on him, they are the most loving and patience people I ever know! Our son progressing so much since we enrolled him in December 2016. Highly recommend this school for parents that want the Best for their children.
Ms. Iris Lee
Mother of 7 years old
Within a week of changing upon the school accidentally, it was an easy decision for me as my first impression of the whole setup was organised, secured and unpretentious. I felt relaxed and at ease entrusting my son to this extraordinary team who believes in cultivating confident natures, enticing their enthusiasm for all things and encourages their positive attitudes. The small class also means that my son is learning at a phenomenal rate and getting the attention he adores.
Ms. Mai Ngo
Mother of 6 years old
Obviously our daughter gains alot of confidence, curious, better communication with her peers, most of all she is happy and enjoys her school. Thank you Ms. Karen, Ms. Chiara and all the members of EtonHouse! You are doing a great job!
Ms. Beatriz
Mother of 4 years old
I join you to celebrate all your work very well done, dedication, success and love given to my daughter and my whole family. You ALL have made us feel part of this great Family Etonhouse Thao Dien. Your passion and energy, which have been shown to us every day and in each activity is remarkable. Truly, you all will remain in our heart and my daughter´s memories. BIG THANK YOU!! As she always says: You are the BEST!!!
Mr. Andy
Father of 4 years old
Long distance daily transportation has made us hesitated sometimes, but we have decided that we would like to register our daughter enrolling in next school year. She loves Etonhouse Thao Dien a lot. By the way, we would like to thank for your continuous investment into the school for the past several months (eg outdoor facilities, festivals, after school classes...), which enriches the kids' total experience. We wish you all the best to come in 2018.
Mr. Dung
Father of 5 years old
My family would like to thank EtonHouse Thao Dien to have been teaching my daughter during this school year. We can see such a fast progress in my daughter's studies day by day, so we really believe in EtonHouse Thao Dien. Once again, we would like to thank the principal and the teachers as well as staff a lot. Wish EtonHouse Thao Dien continued success in the future!
Ms. Celia
Mother of 6 years old
We would also like to express our sincerest and warmest "thank-you" to Ms Karen and our wonderful and terrific teachers and TAs for having given our kids a place they enjoy going to everyday, where they have flourished and learnt mindfulness among all other wonders they have acquired.
Ms. Michika
Mother of 3 years old
My family has two siblings who go to Eton school. I like the homely atmosphere. The principal, other class teachers, and assistant teachers also remember our names and talk to us. In my older daughter's class there was time for everyone to share their thoughts on the topic of the day, which was very unique and interesting. The classrooms are filled with imaginative exhibits and sensory toys, and teachers guide kids through the many ways to play.